New Summer 2002!!!

DEADCATS 'Bad Pussy' CD
# FSP1069
2002 release CD from this Vancouver Psychobilly band who take rockabilly, punk, garage, and surf music , toss it into a blender with high-octane moonshine, lots of irreverent attitude, and some cheesecake pin-ups and the delightful end result is 'BAD PUSSY'. 14 all-new tracks featuring legendary punk drummer Jon Card (ex-D.O.A., SNFU) and swanky cover photos of Burlesque dancer Babette La Fave. Without a doubt the best DEADCATS album yet!!
Track Listing:
(All songs written by The DEADCATS unless indicated*)

1. PSYCHOCAT
2. WE THE BOYS WILL ROCK YA *Big Six
3. CRYPT ZOMBIE HULA
4. LOST GENERATION BREAKDOWN
5. CSIS MOLE
6. MEAN EYED CAT * Johnny Cash
7. HIGH LONESOME CACTUS
8. HEADING OUT ON THE ROAD
9. FORTUNE TELLER * Naomi (Rolling Stones version)
10.BAD BAD WEEK
11.POLICE ON MY BACK * Eddie Grant (Clash version)
12.STRAIGHT DOWN TO HELL * Meteors
13.NIGHT SANDER
14.THEME FROM BAD PUSSY
RATED 5 STARS OUT OF 5 by CUSTOM BUILT Magazine (Finland) and 4 out of 5 by PSYCHOBILLY ONLINE (Germany)!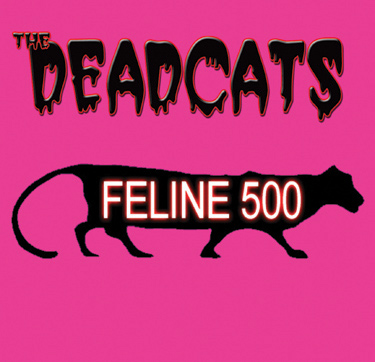 *** NEW *** THE DEADCATS 'FELINE 500' CD (FSPXXX): BRAND NEW release!!! 11 new tracks recorded by the legendary Canadian psychobillies!!! Includeds 7 originals, including 'PEGGY SUICIDE' and 4 choice covers, including a 2-song tribute to LINK WRAY ("Rumble' and 'Jack the Ripper') and the METEORS 'Radioactive Kid' INTRO PRICE (UNTIL SEPT.25TH) ONLY $9.99(INCLUDES SHIPPING)!!:

BUY thru PAYPAL using your credit card for $9.99 postpaid (prices in U.S. funds), click below:

ALSO AVAILABLE ON 12" VINYL LP, LIMITED EDITION (SOLD OUT!!!!!!!!!!!!!)

COMING SOON (SEPT. 2009) NEW ALBUM, 18 SONGS...THE DEADCATS 'LOOK LIKE HELL', ON FLYING SAUCER RECORDS!!!

TO VIEW CART:

HUNDREDS of Psychobilly & Rockabilly new CDs, LPs, T-shirts available at LOW, LOW!!! prices from us. New arrivals: Klingonz, Lonesome Kings, Demented Are Go, Nekromantix, Quakes, Hangmen, Spectres, Gorilla, Mad Sin, Batmobile & lots more!!! ...CLICK THE LOGO BELOW!!!!